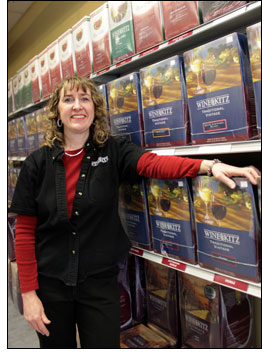 Since 1959, Wine Kitz has been the leader in the consumer wine-making industry and today is one of the largest and most respected wine-making retailers in the world.
The Orléans Wine Kitz store is owned and operated by Leslie Larkin, who was a Wine Kitz consumer before launching the Orléans franchise in 2001.
One of the main reasons for their success is the fact that Wine Kitz manufactures all their own wine-making kits utilizing the finest ingredients from world-renowned vineyards.
At Wine Kitz Orléans, located in the Orléans Town Centre on St. Joseph Blvd., you will discover the easiest, most enjoyable way to make your own quality wines at a fraction of the cost of comparable store bought wines.
The friendly and knowledgeable staff at Wine Kitz Orléans have been helping area wine lovers make great wines for the past 15 years.
Locally owned and operated, Wine Kitz Orléans has over 108 varieties of wine to choose from including such classics as Chardonnay, full-bodied Cabernet Sauvignon, crisp Rieslings and rich Merlots, to exclusive limited releases and specialty wines. While traditional wine kits produce 30-32 bottles of wine, Wine Kitz has recently launched smaller 15 bottle kits.
Each month, Wine Kitz features a red and white wine in their Ultimate Estate Reserve eight-week and Traditional Vintage five-week brands at a special price.
And Wine Kitz stands firmly behind their product with a 100% satisfaction guarantee. If you are not completely satisfied with your wine, they will replace it with a wine kit of equal or lesser value, or refund your money.
But the best thing about Wine Kitz is the ease with which you can make great wine. Simply select the type of wine you want to make mix the ingredients together and let the staff and father time do the rest. Once the wine is ready, it usually takes between 20 and 30 minutes to bottle it. The cost of the final product can range between $3 and $5 per bottle depending on the type of wine you decide to make.
For those customers who prefer to make their wine at home, Wine Kitz has a complete selection of home wine-making equip.m.ent to help get you started.
The Orléans Town Centre is located east of Place d'Orléans at the corner of St. Joseph Blvd. and Prestone Dr. To learn more about Wine Kitz call 613-841-8197 or simply drop by the store where they would be pleased to answer all your questions
(from Orleans Online June 2013)